Master Converter: About
Your one-stop source for all of your conversion needs!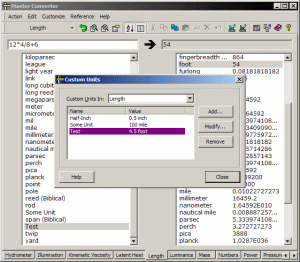 Master Converter is a powerful Windows utility designed to fill one specific purpose: quickly and easily convert units of measurement. The interface is extremely intuitive and user friendly, enabling even first-time users to convert from one unit to another without a hassle.
Master Converter is pre-configured to convert over 800 units in 42 categories. The categories include: length, area, volume, time, speed, acceleration, mass, density, force, energy, power, pressure, flow, data storage, data transfer, viscosity, temperature, magnetism, capacitance, charge, conductance, thermal conductivity, angle, angular velocity, luminance, illumination, numbers, fractions, radiation, and more.
You'll most likely find any unit you'll ever need already built in to Master Converter. If you find Master Converter is missing a unit you need, it's a snap to add your own custom units or your own custom categories! Master Converter will effortlessly grow to suit your needs.
Master Converter is distributed as a shareware software product. This gives you the ability to try out the program before you pay for it, thus allowing you to see if it fits your specific needs. If you find the program useful, you are asked to register the product. Registering Master Converter gets you a registration "code" that removes the opening wait screen on this and ALL FUTURE VERSIONS of Master Converter. Once you register, there is no need to register again!